TEACHING TEAM
Rudd School Of Rock prides itself on delivering music tuition of the highest quality. In order to achieve this, we only have highly experienced professional music teachers onboard our team. Our specialist music teachers are among the most inspiring music teachers you will find in the world. All of them are masters of their art. They are absolutely passionate about music and the instruments they teach, and they have real world music industry experience as performers, songwriters, music managers/executives. All are accomplished musicians in their own right with a wealth of knowledge to share with their students.
Alex Pyle
Alex Pyle is a highly accomplished Grade 8 guitar player and is currently completing a Bachelor of Music degree at University of Auckland, majoring in Jazz Guitar. Advanced music study has allowed Alex to formally develop his high-level music theory including complex arranging and composition skills. He has also completed many technical guitar exams throughout his studies at University.
Alex has significant experience playing with other musicians in both small and large ensembles in live performances. While his specialty is guitar, Alex is quite typical of high achieving musicians with his ability to play other instruments. He is also proficient on the piano and drums.
Alex states 'if there is one thing I've learnt from studying Jazz Guitar at University it is that practicing with intent and clarity will get you a long way, and it certainly pays off in the end.'
We are grateful to have Alex onboard our team as an expert guitar teacher. He is a friendly and highly accomplished musician with a passion and attitude towards music that is sure to rub off onto his students!
Ben Doy 
Ben Doy was raised with music in the household from a very young age as son of award-winning musician 'Mr Piano By Candlelight' Carl Doy.  Ben has played and performed on drums and percussion since he was eight years old, and has 30 years experience in the music industry.  He has performed and recorded music with orchestras, brass bands, rock bands, jazz bands, and played with some of New Zealand's biggest musical stars.  Ben is also Director of Libel Music, a media website for the New Zealand music industry.
Ben is a true music professional with a wealth of knowledge to pass onto Rudd School Of Rock drum and percussion students.
Clint Gamree
Clint Gamree has been a passionate drummer for more than 10 years and is the founder of Auckland heavy metal band Exitium along with Nikolas Bryon-Carr who also teaches guitar at Rudd School of Rock.
Inspired by legends such as John Bonham, Keith Moon & Mitch Mitchell and more, Clint's drumming style is a mix of classic heavy metal, jazz-fusion.  He can deliver fast thrash beats and has a heavy right foot, which apparently is a real asset for a professional drummer.
When not playing or teaching drums, Clint is a keen digital animator and developer and has worked for companies including Rush Digital and Gameloft.
Clint has is passionate about teaching drums to new students, and passing on his immense practical knowledge of how to master this noisy but very cool instrument.
Guy Harrison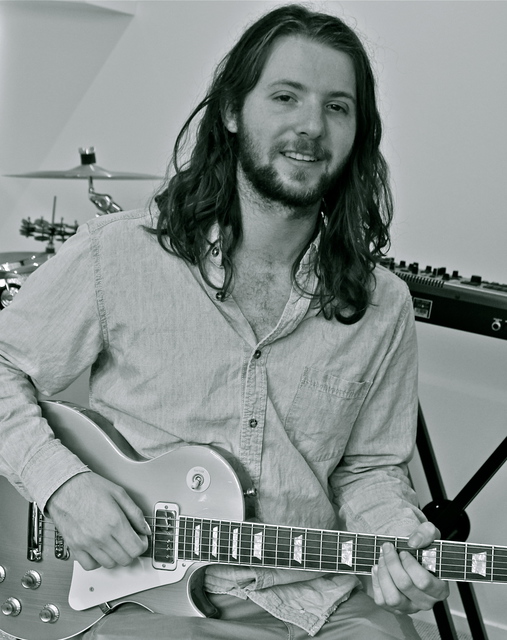 Guy Harrison is an accomplished musician with significant experience playing and teaching piano, guitar and trumpet.  Guy has performed with major artists including Hollie Smith, Batucada Sound Machine, Sal Valentine and the Babyshakes, Esther Stevens and The Means, Mice on Stilts and Balu Brigada.
Guy is currently studying towards a Bachelor of Music (Jazz Performance) at University of Auckland.  His currently formally recognized music qualifications include Grade 8 Classical Guitar with Trinity College London along with Grade 5 Piano and Grade 5 Music Theory with Royal School of Music London.
With his skills across more than one instrument, multitude of music qualifications and extensive performance experience, Rudd School of Rock music students know they will be learning with a real musical genius!
Joseph Macedo
Joseph Macedo is a talented and experienced guitar player/songwriter.
Joseph has completed a Certificate in Contemporary Music Performance with MAINZ (Music & Audio Institute of New Zealand) and is currently studying towards his Diploma in Contemporary Music Performance.
Joseph plays lead guitar and performs regularly in 'Bad State', an Auckland hard rock band. 'Bad State' has competed and been placed highly in several band competitions and was awarded first place in the Ding Dong Lounge Bands Competition in 2015.
Learning different genres of music makes Joseph versatile in his teaching style and he likes to encourage his students to broaden their musical skills as much as possible, trying new things they might have not tried otherwise. He will show students not only how to be a good guitarist, but more importantly, awesome musicians!
Kenji Iwamitsu-Holdaway
Kenji Iwamitsu-Holdaway graduated with his Bachelor of Music (major Performance Jazz Guitar) at University of Auckland in 2016 and also holds a Diploma in Teaching from the International Rock Music Exam Board.
Kenji has been an active musician on the NZ music scene for over 8 years.  He has recorded and performed with established NZ artists including Laughton Kora (Kora), P-Digsss (Shapeshifter), David Dallas, Rodney Fisher (Goodshirt) and Tom Scott (Homebrew, @peace).
His latest band 'Yuko-Zuna' featuring Laughton Kora were recently nominated for 'Best Song' at the 2016 APRA Silver Scrolls Songwriting Awards and has since gained major support from NZ On Air and a label deal with Loop Recordings.
Kenji has extensive music teaching experience.  He has experience across many contemporary genres including blues, rock, pop, RnB, Hip-hop, reggae and funk.  He has excellent knowledge of the different performance techniques that are required to play in all of these genres, and knows how to teach these techniques in a way that students can understand and enjoy. Kenji's training in jazz also enables him to give his students a thorough grounding in chord/scale theory, time-feel sensibility, composition, and notation knowledge.
Kenji's talent, knowledge and experience is sure to inspire and bring out the best in all his students.
Kurt Kong
Kurt Kong is an exceptional pianist who has attained Grade 8 Piano with ABRSM (Associated Board of the Royal Schools of Music, London) as well as Grade 5 Theory in ABRSM gained with Distinction.
Kurt is highly knowledgeable of all piano techniques and concepts, and is a seasoned performer having showcased his skills in numerous competitions and concerts. Kurt has won awards in various piano competitions including North Shore performing arts, South Auckland performing arts, Te Awamutu performing arts, and West Auckland performing arts competitions.
Beyond piano, Kurt also has a passion for Lion Dance Music in E-PACS (Lion & Dragon Dance Group) and coaches and mentors students across Auckland in this ancient chinese art form.  The group regularly performs at cultural events including the annual Chinese Lantern Festival.
Kurt is a very patient teacher, and adapts his teaching style to each individual student. He is keen and energetic, with a great sense of humour and enjoys seeing his energy and positivity reflected in his students.
Nikolas Byron-Carr
Nikolas Bryon-Carr is a talented musician and composer with over 13 years of performance experience in guitar, drums and vocals.
Nikolas has played in several bands and has recently joined Auckland heavy metal band Exitium.  Nikolas is a fan of many genres of music and has a broad appreciation of and ability to teach different styles of music. For Nikolas as a music composer, a wide exposure to music has enabled him to blend elements of multiple genres to capture the feeling he trying to convey in a particular song, and he likes his students to listen to and learn different styles of music so they can develop skills to do the same.
Beyond his passion for music, Nikolas is in his final stages of a Bachelor of Commerce at University of Auckland.  He is also an active member of a number of community organisations including Hospice NZ, Amnesty International, Greenpeace and the Auckland Programme for Space Sciences.
Nikolas' enthusiasm for sharing his knowledge with his students is perfectly summarized in his own words: 'I strongly believe that music has the power to change lives, to enhance the social, cultural and spiritual lives of people, and serve as a profound medium of personal expression.  Music has been a gift in my life and I am very excited about the opportunity to play a role in it doing the same for someone else.'
Nick Chaffey
Nick Chaffey has over 10 years experience playing, performing and teaching drums.
Nick holds a Diploma in Contemporary Music from Unitec Auckland and has superb musical and personal qualities earning him status as a popular band member in a number of musical acts.
With his strong musical background along with his friendly personable nature and passion for passing on his knowledge and experience to his drum students, we are grateful to have Nick onboard the Rudd School of Rock team to develop the drumming prowess in all his students!
Stefan Maday         
Stefan Maday is an accomplished musician playing guitar, violin and cello.  Stefan has graduated from University of Auckland with a Bachelors of Music and Bachelor of Science conjoint degree, and is well qualified for teaching Rudd School Of Rock guitar students.  While a student at Avondale College, Stefan won the 2010 Gordon Cole Award for Excellence in Music and was music leader for the school from 2009-2010.  Stefan was recently involved in a musical vocal and ensemble composition class at University of Auckland plus contributed to University choir performances. He aims to further his composition and songwriting skills and develop musical scores for the international film and television industry.
With a background in classical and modern music, Stefan is passionate about passing on his musical knowledge and experience to Rudd School Of Rock students.
Winnie Kosasih
 
Winnie Kosasih is a talented pianist who has attained Grade 8 Piano with Distinction and Grade 8 in Music Theory with the Associated Board Royal School of Music, London.
In her original homeland of Indonesia, Winnie was a contestant in the Indonesia Young Musician Performance in 2009 and 2012.
Winnie is an experienced piano tutor with a genuine interest in sharing the joy of piano playing, and a warm and encouraging nature. Winnie's students will find her to be a patient teacher who works hard to bring out the best in all her students.