TEACHING TEAM
Rudd School Of Rock prides itself on delivering music tuition of the highest quality. In order to achieve this, we only have highly experienced professional music teachers onboard our team. Our specialist music teachers are among the most inspiring music teachers you will find in the world. All of them are masters of their art. They are absolutely passionate about music and the instruments they teach, and they have real world music industry experience as performers, songwriters, music managers/executives. All are accomplished musicians in their own right with a wealth of knowledge to share with their students.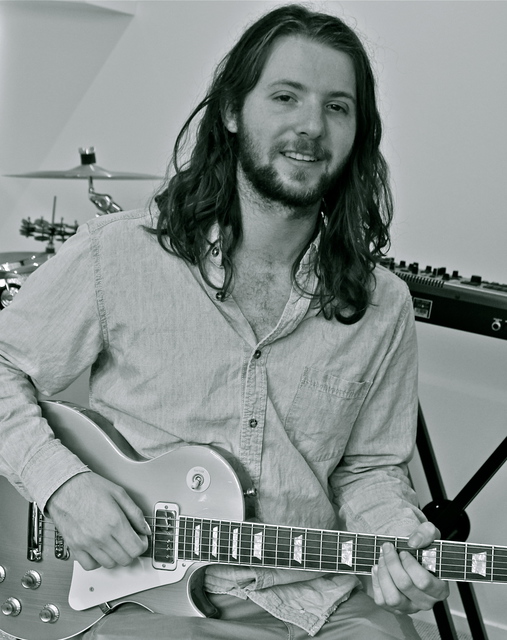 Guy Harrison is an accomplished musician with significant performance and teaching experience in piano, guitar and trumpet.
Guy is a real career musician, devoting all his time and energy to music. He is a member of the highly successful band The Miltones, who were awarded Auckland Live Best Independent Debut 2018 for their recently released self-titled album at the Taite Music Awards. The Miltones have performed at major music festivals WOMAD, Marchfest and sold out their album release tour.
Guy has also performed with major artists including Hollie Smith, Batucada Sound Machine, Sal Valentine and the Babyshakes, Esther Stevens and The Means, Mice on Stilts and Balu Brigada.
When not teaching, performing or working on new material, Guy is studying towards his Bachelor of Music (Jazz Performance) degree at University of Auckland. His currently formal music qualifications include Grade 8 Classical Guitar with Trinity College London along with Grade 5 Piano and Grade 5 Music Theory with Royal School of Music London.
With his skills across more than one instrument, multitude of music qualifications and extensive performance experience, Rudd School of Rock music students know they will be learning with a real musical genius!
Stefan Maday is an accomplished musician playing guitar, piano, violin and cello. Stefan has graduated from University of Auckland with a Bachelors of Music and Bachelor of Science conjoint degree, and is well qualified for teaching Rudd School Of Rock guitar students. While a student at Avondale College, Stefan won the 2010 Gordon Cole Award for Excellence in Music and was music leader for the school from 2009-2010. Stefan was recently involved in a musical vocal and ensemble composition class at University of Auckland and contributed to University choir performances. Composition and songwriting is one of Stefan's special interests and we may see him developing musical scores for the international film and television industry one day.
Stefan is passionate about passing on his musical knowledge and experience to Rudd School Of Rock students. With his strong background in both theory and performance of classical and modern music, whether you are learning guitar or piano with Stefan, you can be assured you are learning with a real music perfectionist with an incredible store of music knowledge to share.
Emily Briggs
Emily Briggs is a talented and high-achieving musician. Her chosen area of specialization is singing and she has been recognized for her talents receiving several performing arts special awards over the years as well as receiving rare performance opportunities both in NZ and overseas.
Emily is currently studying a conjoint Music and Law degree at Auckland University and has ATCL Diploma in Performance Arts and Advanced Performance Certificate for Music (Voice). She was the recipient of the prestigious Marie D'Albini Singing Scholarship for 2017 at Auckland University.
Beyond her exceptional singing experience Emily has attained Grade 6 (Classical Piano), Grade 5 (Jazz Piano) and Grade 5 (Oboe).
An outstanding student of Macleans College, Emily obtained top grades for music including the High Achievers Award (top in New Zealand at AS and AL level) and has performed for opera legend Dame Kiri Te Kanawa.
Emily was a member of the New Zealand Secondary Schools Choir from 2015-2016. A highlight of her time with Choir was singing at the 100th ANZAC Commemoration Service in Wellington before commencing an international tour of Canada.
Emily's students at Rudd School of Rock can consider themselves to be very fortunate to be learning the art of singing with such a passionate, highly qualified and gifted teacher!
Kurt Kong
Kurt Kong is an exceptional pianist who has attained Grade 8 Piano with ABRSM (Associated Board of the Royal Schools of Music, London) as well as Grade 5 Theory in ABRSM gained with Distinction.
Kurt is highly knowledgeable of all piano techniques and concepts, and is a seasoned performer having showcased his skills in numerous competitions and concerts. Kurt has won awards in various piano competitions including North Shore performing arts, South Auckland performing arts, Te Awamutu performing arts, and West Auckland performing arts competitions.
Beyond piano, Kurt also has a passion for Lion Dance Music in E-PACS (Lion & Dragon Dance Group) and coaches and mentors students across Auckland in this ancient chinese art form. The group regularly performs at cultural events including the annual Chinese Lantern Festival.
Kurt is a very patient teacher, and adapts his teaching style to each individual student. He is keen and energetic, with a great sense of humour and enjoys seeing his energy and positivity reflected in his students.
Liam Crawford
Liam Crawford is a talented drummer with over 10 years experience performing and mastering the practice of drumming. Liam has achieved Grade 8 Trinity level for drums and has worked and played in bands across a very broad range of music genres including jazz, reggae, ska, rock, funk, latin and pop.
Liam is a true musician who is not just about giving the beat. Liam has a special interest in putting his own creative spin in when drumming. It's an attitude that allows Liam to try and stand out from the rest when performing on the drums. Liam's experience in piano and guitar also helps him translate musicality to his drumming style.
When not drumming, performing in one of his bands, or enthusiastically teaching Rudd School of Rock drum students, Liam is working on completing the final stages of his Bachelor of Engineering degree at Auckland University of Technology.
Nikolas Byron-Carr
Nikolas Bryon-Carr is a talented musician and composer with over 13 years of performance experience in guitar, drums and vocals.
Nikolas has played in several bands and has recently joined Auckland heavy metal band Exitium. Nikolas is a fan of many genres of music and has a broad appreciation of and ability to teach different styles of music. For Nikolas as a music composer, a wide exposure to music has enabled him to blend elements of multiple genres to capture the feeling he trying to convey in a particular song, and he likes his students to listen to and learn different styles of music so they can develop skills to do the same.
Beyond his passion for music, Nikolas is in his final stages of a Bachelor of Commerce at University of Auckland. He is also an active member of a number of community organisations including Hospice NZ, Amnesty International, Greenpeace and the Auckland Programme for Space Sciences.
Nikolas' enthusiasm for sharing his knowledge with his students is perfectly summarized in his own words: 'I strongly believe that music has the power to change lives, to enhance the social, cultural and spiritual lives of people, and serve as a profound medium of personal expression. Music has been a gift in my life and I am very excited about the opportunity to play a role in it doing the same for someone else.'
Maxwell Phillips
Maxwell Phillips is a highly talented drummer with more than 10 years experience playing and performing on the drums.
Max is sure to be well-liked by his students, not only for his passion for music and his amazing drum skills with his students, but his exceptional people skills and kind attitude. Such traits are highly desirable for a music teacher!
When not teaching music, Maxwell is studying towards his Bachelor of Architecture degree at Unitec.
Max looks forward to working with the new generation of drummers at Rudd School of Rock to master the intricate art and skills of playing the drums.
Myung Joon (MJ) Kim
Myung Joon (MJ) Kim is a talented guitarist, bass guitarist, drummer and singer with significant experience in both New Zealand and South Korea.
MJ has a Graduate Diploma in Guitar with Seoul Jazz Academy and a Diploma in Performing Arts (Major in Guitar) with Excel School Of Performing Arts in New Zealand.
MJ has extensive music performance experience with his former band JUICE who played at major music clubs and festivals in South Korea. Their original songs achieved chart success in Korea with singles featuring in the Top 100 online Korean music charts.
When not teaching for Rudd School Of Rock, MJ works for KBB Music in their Epsom store.
MJ is a passionate musician and experienced music teacher who brings out the best in his students.
Marcella Adisurya
Marcella Adisurya is an avid musician with her main musical strength in guitar, but she is also has experience playing the piano and drums.
Marcella experience on guitar spans over 10 years. She is accomplished across a range of styles and genres with her main passion performing jazz. Marcella is an experienced live and band musician and has performed with jazz groups, rock bands and church bands.
Marcella loves working with children and joins Rudd School of Rock with strong teaching experience both on guitar and as a tutor in mathematics and English. She is a highly supportive, patient and encouraging teacher who is sure to bring out the best in her students.
Clint Gamree
Clint Gamree has been a passionate drummer for more than 10 years and is the founder of Auckland heavy metal band Exitium along with Nikolas Bryon-Carr who also teaches guitar at Rudd School of Rock.
Inspired by legends such as John Bonham, Keith Moon & Mitch Mitchell and more, Clint's drumming style is a mix of classic heavy metal, jazz-fusion. He can deliver fast thrash beats and has a heavy right foot, which apparently is a real asset for a professional drummer.
When not playing or teaching drums, Clint is a keen digital animator and developer and has worked for companies including Rush Digital and Gameloft.
Clint has is passionate about teaching drums to new students, and passing on his immense practical knowledge of how to master this noisy but very cool instrument.
Denholm Cox
Denholm Cox has 17 years of music experience specialising in drums, guitar, bass, and electronic music production/engineering and DJing.
Denholm has played in several bands in Auckland including bass for thrash metal band Dorserma and drums for progressive rock band Brackenwood Coven. Aside from band commitments, Denholm also composes and engineers music as "K-Shoo".
Denholm listens to and analyses a wide range of musical genres and their production methods. This gives him an excellent all round appreciation and understanding of music but he has a real soft spot for metal, and funk/soul/jazz.
Denhom holds a Diploma in Audio Engineering (Level 5) from SAE.
Music is Denholm's passion, and he is excited to be teaching and passing on his knowledge to the School of Rock students!
Nicole Ho Shiqi
Nicole Ho Shiqi is an experienced and dedicated vocalist, guitarist and singer-songwriter.
Nicole has performed lead roles in many musicals including Phantom of the Opera and Hairspray. She is an experienced stage performer and performed with rock and pop bands at many venues and events.
Nicole was awarded the premier award at Rudd School Of Rock's 2015 Annual Showcase, 'Most Outstanding Musician.' Her confidence and vocal abilities are incredible for her age and she displays performance talent beyond her years. Nicole not only excels in delivering outstanding singing technique, she always manages to leave her audiences awestruck by her powerful voice and matching energetic performance that captures the spirit of every song she sings.
Nicole is a talented musician and is passionate about sharing her skills with a new generation of up and coming music students.
Maxwell Brown
Maxwell Brown is a highly professional musician and music teacher with more than 16 years experience over a number of instruments. Max's career in the music industry started with making electronic music on his computer before graduating to Guitar, Bass Guitar, Keyboards and Drums.

Maxwell performs on a regular basis performing both solo and with bands including Sans Valeur, Stay Foolish, A Lonely Cow Weeps At Dawn. He has also featured with Whyfi, Badcorporation, Melo Downs, La Rosa Gardens and Him.
Maxwell has obtained tertiary qualifications in music with Music and Audio Institute of New Zealand (MAINZ) and has been teaching music on a regular basis for the past 10 years.