Rudd School of Rock is Auckland's coolest music school specialising in Guitar, Bass Guitar, Drums, Keyboard/Piano, and Singing/Vocal tuition for kids and adults from absolute beginner to advanced levels. We are the music school of choice for those who are serious about learning a musical instrument, whether for fun or to develop lifetime music skills and a potential career in music.
Founder of Rudd School of Rock, Peter Rudd is an award-winning New Zealand musician with 30 years global music industry experience both as a performer and in music publishing/artist management. He is guitarist, lead vocalist and songwriter for multiple-award nominated and internationally acclaimed pop/rock band 'Tourist'.
Over the many years music has been part of his life, Peter accumulated a wealth of knowledge and skills not only in the instruments he plays, but also about what it takes to become a successful musician.
Peter came to believe that musicians like himself with an intimate practical knowledge of music and an abundance of experience in the music industry have a responsibility to pass this knowledge and experience onto future generations of musicians.
So in 2005, Peter established Rudd School of Rock as the only music school with the unique mission of not just teaching its students how to play instruments, but to "Build Future Music Leaders".
Our music tuition and coaching services focus on inspiring true musicianship, encouraging a lifelong love of music, and laying firm foundations for the budding music performers and creators of tomorrow.
Since 2005, thousands of up and coming musicians can say Rudd School of Rock is where it all started for them. And today, we hold our position as the NZ's only music school where tomorrow's leading musicians are exclusively taught how to be musicians by real-life musicians.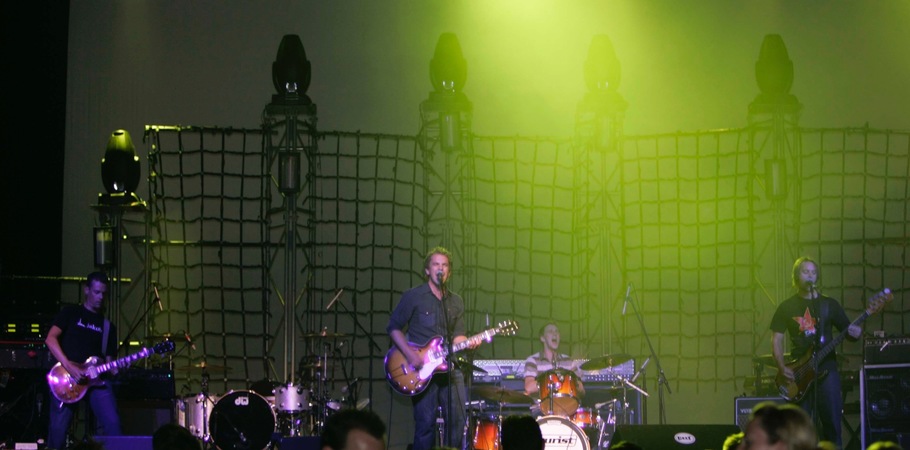 Tourist opens for Snow Patrol, Vector Arena, Auckland 2006
Rudd School of Rock's mission is 'Building Future Music Leaders'. We don't just aim to teach our students how to read music, and play an instrument. We aim to teach our students to master the techniques that will make them a top guitarist, singer, drummer or keyboard player. We also work to develop our students understanding of the inner workings of music so that they have the foundation knowledge for creating their own original songs and signature style.
How do we turn a beginner music student into a future music leader? Peter Rudd is quick to point out that "kids and adults come to us really interested in learning to play a musical instrument. It is our job to not only fulfill that interest, but also to grow their interest, so that students develop a desire to really learn and improve on their instrument. That is how music stars are made".
At Rudd School of Rock, we know it is not all about what we teach. It is also about how we teach. Peter recounts his own experience. "When I was growing up I clearly recall a number of music teachers I had for guitar, piano, singing and drums who were not particularly inspiring and forced us to play tired old music day in and day out, practicing tons of theory and never really motivating or inspiring us to enjoy the instrument and learning process."
Do you remember the best teachers you ever had? They are the ones who "made learning fun" and "inspired you to learn and improve". You will find your Rudd School of Rock music teacher doing exactly that.
And so, at Rudd School of Rock our teaching philosophy is foremost to make learning fun and enjoyable and inspire you to want to learn and excel in your chosen instrument. That paves the way for our leading-edge teachers to share with you the immense knowledge and finely-tuned skills they have as musicians to help you become a future music leader too.
To achieve our unique mission 'Building Future Music Leaders', and to set ourselves apart from other music schools, we pride ourselves on offering:
Professional Tuition with Real Musicians

How can you become one of the best, unless you learn from one of the best? Our teaching team is ONLY made up of high-achieving musicians, including several award-winning musicians. We do not have any average teachers in our team. You will find our teachers to be among the most inspiring teachers in the world. They are absolutely passionate about music and the instruments they teach. They have current real world music industry experience as performers, recording artists, songwriters, music engineers. Each possesses an immense wealth of knowledge and skills that only an accomplished musician can gain with time and they are passionate about sharing that knowledge with the next generation of musicians.
Individual Lessons Focused Only on YOU
All our music instrument lessons are conducted on a one student to one teacher basis, so that the focus on your weekly music lessons is on developing YOU as a musician, and nobody else. Just as no individual is the same, we firmly believe that individual and customised lessons are the only true method for learning an instrument effectively because it recognises that students learn at different paces and develop different musical preferences. Don't settle for sub-standard group lessons that produce "cookie cutter" musicians.
Be your best by learning with the best