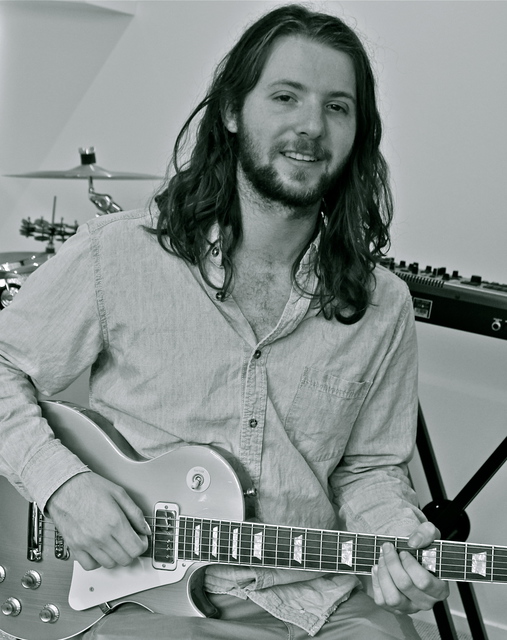 Guy Harrison is an accomplished musician with significant performance and teaching experience in piano, guitar and trumpet. 
Guy is a real career musician, devoting all his time and energy to creating music, recording and performing when he is not teaching for Rudd School of Rock.  He is a member of the highly successful band The Miltones, who were awarded the Auckland Live Best Independent Debut 2018 for their recently released self-titled album at the Taite Music Awards.  The Miltones have performed at major music festivals WOMAD, Marchfest and sold out their album release tour.
Guy's band 'Avantdale Bowling Club' received two major awards at Vodafone NZ Music Awards 2019, Album of the Year and Best Hip Hop Artist. Guy also plays in Troy Kingi's band 'the Upperclass' and Troy Kingi took out Best Maori Artist and Best Roots Artist .
Other well-known artists Guy works with include Hollie Smith, Batucada Sound Machine, Sal Valentine and the Babyshakes, Esther Stevens and The Means, Mice on Stilts and Balu Brigada.
Guy holds a Bachelor of Music (Jazz Performance) from University of Auckland, and his other formal music qualifications include Grade 8 Classical Guitar with Trinity College London along with Grade 5 Piano and Grade 5 Music Theory with Royal School of Music London.
With his skills across more than one instrument, multitude of music qualifications and extensive performance experience, Rudd School of Rock music students know they will be learning with a real musical genius!
Stefan Maday is an accomplished musician playing guitar, piano, violin and cello.  Stefan has graduated from University of Auckland with a Bachelors of Music and Bachelor of Science conjoint degree.  While a student at Avondale College, Stefan won the 2010 Gordon Cole Award for Excellence in Music and was music leader for the school from 2009-2010.  Stefan was recently involved in a musical vocal and ensemble composition class at University of Auckland and contributed to University choir performances. Composition and songwriting is one of Stefan's special interests and we may see him developing musical scores for the international film and television industry one day.
Stefan is passionate about passing on his musical knowledge and experience to Rudd School Of Rock students.  With his strong background in both theory and performance of classical and modern music, whether you are learning guitar or piano with Stefan, you can be assured you are learning with a real music perfectionist with an incredible store of music knowledge to share. 
Joe Kaptein   
Joe Kaptein is a dedicated and passionate musician - a specialist on piano/keyboards/synthesizer and also skilled on both guitar and bass guitar. He has recently graduated from the University of Auckland School of Music with a Bachelor of Music majoring in Jazz Performance, and when not teaching at Rudd School of Rock is working on completing his Honours degree in Music.
Joe comes from a diverse musical background, from growing up with his parents' wide-ranging taste in music and receiving classical piano tuition from aged 6 and involvement in bands of many genres at Whangarei Boys High School. Since moving to Auckland, Joe has studied under the likes of Kevin Field and Phil Broadhurst, and performed in many varied musical settings from playing contemporary and improv jazz alongside many of Auckland's most inventive jazz musicians at Creative Jazz Club Aotearoa to performing to a sold-out nationwide tour playing in the support band for BENEE with Raglan pop-soul musician Muroki, and many other gigs in between.
Joe is looking forward to bringing his skills and experience to the School of Rock team, and aims to create an inspiring and enjoyable learning experience for all his students.
Nick Buetow   
Nick Buetow is an enthusiastic pianist with 12 years of experience who holds a grade 8 qualification from Trinity College of London and grade 5 in ABRSM piano practical and theory.
Nick plays across many different musical genres on the piano including classical, romantic, and 20th Century styles of music. In his spare time he enjoys playing modern pop and rock songs while also being a competent singer. Nick has performed in many different piano recitals where he performed as a soloist.
He found his passion for music through the inspiration of his piano teachers and is thrilled to pass on his love of music to his students.
While completing his Bachelor's in Health Science, Nick will be an enthusiastic piano teacher for his students at Rudd School of Rock. 
Ryan Ivory
Ryan Ivory is a true lover of music with knowledge and experience in a wide variety of styles, from Reggae to Heavy Metal and many genres in between. He has 14 years of experience playing Acoustic and Electric Guitar and also plays Bass. Ryan has performed with various bands and also enjoys composing and producing original music.
In his final year at Avondale College, Ryan was awarded as top music student. From here he went on to complete a Bachelor's Degree at the University of Auckland with double-majors in Music and Psychology. This educational experience greatly helped Ryan gain greater understandings of how music and people work, which was excellent preparation for teaching.
Ryan hopes to help students become as passionate about the art form of music as he is. Through sharing instrumental technique and theoretical understandings, he aims to set-up young players with the skills to enable the type of musical engagement that enhances life!
Neo Aiono-Fukushima
Neo Aiono-Fukushima is a dedicated guitarist with over 10+ years experience.
Neo's parents are both very musical and his father is a talented jazz guitarist.  Raised with music in the household Neo was inspired by music legends such as Stevie Ray Vaughan and Jimi Hendrix.
Currently studying a degree in jazz at University of Auckland majoring in guitar, Neo is working towards a full time career in the music industry.
Neo is very passionate about music and looks forward to sharing this passion with his students of Rudd School of Rock and encouraging them to reach their full musical potential.
Marcella Adisurya
Marcella Adisurya is an avid musician with her main musical strength in guitar, but she can also play the piano and drums.
Marcella experience on guitar spans over 10 years.  She is accomplished performer with jazz groups, rock bands and church bands.  Marcella is skilled across all genres but she has a real soft spot for performing jazz.
To cap her mastery of the guitar, Marcella is currently studying towards a Bachelor of Music Arts degree, majoring in Guitar Performance.
Marcella loves working with children and joins Rudd School of Rock with strong teaching experience both on guitar and as a tutor in mathematics and English.  She is a highly supportive, patient and encouraging teacher who is sure to bring out the best in her students.
Nat Hathaway   
Nat Hathaway is a passionate and driven musician. He specialises in the bass guitar and is currently in his third year of a Bachelor of Music, Jazz Performance at the University of Auckland, studying under Olivier Holland on both electric and upright bass. Besides bass guitar, Nat also plays guitar and keys.  Nat studied the keyboard throughout childhood and has undertaken university papers studying jazz piano.  
Aside from jazz, Nat loves a wide spectrum of music, ranging from the likes of classical through to 60s pop, 70s funk, and modern synth-pop to name a few.  
In his spare time, Nat enjoys playing gigs for his fellow jazz majors, as well as gigging with his Raglan-based reggae/roots band, Masaya, who have recently come off their nationwide summer tour.
Nat aspires to not only bring his expertise and knowledge in music to the Rudd School of Rock, but also pass on his passion for music and create an environment of learning and growth for his students.
Oliver Cato
Oliver Cato is a passionate musician with 12+ years of experience playing acoustic and electric guitar, as well as bass and a little bit of drums on the side.
Oliver has been playing for live audiences since the age of 14, starting out by playing in various church bands. While his roots are in rock, he has a love for all kinds of music, regardless of genre. He currently plays in a band called "NEON".
Besides teaching, Oliver is working to complete a Bachelor of Audio Production from SAE Institute, with the goal of creating and collaborating with artists on musical projects as a full time career. He is very enthusiastic about joining the Rudd School of Rock team and is looking forward to building up the musical skills of his students, both young and old.
Alan Motufoua

   
Alan Motufoua is a passionate and eager musician who specialises in guitar and bass. 
His musical experience spans over 11 years, starting bass and guitar in intermediate and all the way through high school and university, where he is currently completing his Bachelor of Music, majoring in Jazz Guitar. 
Alan's musical interests are in jazz and hip-hop influences, but he was brought up on a mix of traditional gospel music and classic rock and blues, a là Les Paul and Chet Atkins.
Alan has played and been involved in multiple bands and music groups school and university. He's performed and competed at Pacific Beats and Rockquest, was Performing Arts Prefect at Massey High School, and has also been involved in community work through music, including assisting the coordination of performances and live sound engineering for the Avondale Christmas Market, and playing guitar for the West Auckland Intermediate Choir Collective.
Besides playing the guitar, Alan is also interested in music production and audio recording, currently working on his own and fellow artists' music projects.
Alan's aim with Rudd School of Rock is to spread his love of music to his students, giving them the opportunity to grow and find their voice on the fretboard, and eventually flourish into the musician they want to be.
Isabella Bouwer
Isabella Bouwer is an enthusiastic and passionate musician trained in voice and piano. Isabella started her musical journey aged 6, and since then she has been involved in a wide variety of musical endeavours. She is a current member of the New Zealand Secondary Students Choir (2019-2020), as well as recently being selected as a reserve member of the New Zealand Youth Choir for 2020-2022. Isabella was also part of both premier choirs at Takapuna Grammar (2018-2019), both reaching the finals in "The Big Sing". She has also held lead roles in several productions including 'The Little Mermaid' (Takapuna Grammar School, 2019) and 'Joseph and the Amazing Technicolor Dreamcoat' (London). Isabella has been trained by some of New Zealand's top vocal specialists and has performed all over the country.
One of Isabella's highlight performance experiences was singing with Sir Bob Geldof and Mick Fleetwood's Playing It Strange concert in September 2019 at the Vodafone Events Centre. 
Isabella is truly excited about sharing her expertise and knowledge of both singing and piano with Rudd School of Rock's students. 
Folau Atuekaho
Folau Atuekaho is a talented and a passionate musician who specialises in Vocals, but like many high achieving musicians is also skilled on various other instruments including guitar, drums, ukulele and piano. Musically, he is from a background of Soul, Gospel, hiphop & RnB, Reggae and Jazz. 

Folau is born to perform. He's been singing since the age of 8 and was passionately involved in school choirs and school productions throughout high school where he was also awarded Dux Artium. 

He studied a Bachelors of Music at the University of Auckland, majoring in Jazz Performance and is now pursuing studies in Music Production to expand his knowledge and skills into the technical side of music.   
Folau cannot wait to share his experience and knowledge with the future up and coming musicians of Rudd School of Rock.
Lea Anae
Lea Anae is a dedicated musician who specialises in vocals and is also skilled on the piano and guitar. Her first musical experience started off in church choirs, where she gained a passion for understanding vocal technique, helping her to use her voice to the best of its ability. She has 10+ years of music experience as a vocalist in bands, choirs, solo performances and has experience as a session singer. 
Lea's personal vocal journey has been inspired by vocal legends such as Aretha Franklin, Stevie Wonder, Sarah Vaughan, Amy Winehouse and Chaka Khan.
Lea comes from a musical background of Gospel, Jazz, RnB, Soul, Pop and is constantly learning new ways to improve her versatility as a musician. In her spare time Lea enjoys playing gigs with her University peers and writing original material as an outlet for her creativity. She is currently finishing off her Bachelors Degree in Music majoring in Jazz vocals.
Lea is excited to share her knowledge and experience with students of Rudd School of Rock. Her aim is to enrich the musical experiences of her vocal students, allowing them to find their voices, develop their vocal talent and have fun while achieving this! 
Alanah Jones
Alanah Jones is a passionate and eager musician, specialising in voice, with secondary skills in piano accordion and the piano. 
Alanah began her relationship with music at age 3, and during her childhood competing nationally and internationally with the piano accordion. At age 8, Alanah began her journey in singing. She has since been afforded a wide variety of impressive experiences such as singing solo with the Auckland Symphony Orchestra in 2016, performing mass in the Vatican as a part of Westlake's premier choir, Choralation and performing in masterclasses with distinguished classical singers such as Amitai Pati. 
Alanah is currently in her second cycle as a member of the New Zealand Secondary Students Choir, and has attended the National Big Sing Finale for the past 4 years with both of Westlake's premier choirs. She also performed in the Westlake School's joint production of Les Miserables in 2019, as Fantine for which she was nominated for Best Female Actress in the Auckland Live Showdown awards. 
Alanah has been trained by and has worked with some of New Zealand's top vocal specialists and experts, and has enjoyed performing extensively both around Aotearoa and internationally. 

Alanah is ecstatic to be a part of the Rudd School of Rock team. She hopes to pass on to her students her love of music and the opportunities it can bring. 
Elijah Whyte
Elijah Whyte is a dedicated musician with professional experience in both performance and teaching on the drums. 
With music being his full time career, Elijah is constantly performing, recording, writing and teaching music. He is a member of the very successful covers band The Beat Council, who performs every Friday night at Auckland's busiest and biggest bar Sweatshop Brew Kitchen. Elijah is also an accomplished session musician who has performed and recorded with some of New Zealand's best music artists/acts including Troy Kingi, Hollie Smith, Nathan Haines, Foley, Harper Finn, Alae and Thabani Gapara. 
Elijah holds a Bachelor of Music degree Majoring in Jazz Performance from the University of Auckland. His other formal music qualifications include the 2018 KBB Music Jazz Percussionist of the year Award, and the Mike Chunn Award for Song Writing in both 2014 and 2015 while studying at Takapuna Grammar School.
With his proficient skills on the drums, backed by his wide-ranging performance experience and music qualifications, Elijah is sure to be a very inspiring and fun teacher for his students at Rudd School of Rock!
George Brajkovich
George Brajkovich is a devoted musician who has played drums for over 15 years, and has been performing with bands since 12 years old.
Throughout this time, he has had the pleasure to learn and study with musicians such as Frank Gibson Jr, Julien Dyne, Finn Scholes, and Ron Samson.
Whilst at Rosmini College in Auckland, George was involved in school music programs, and was awarded an NCEA Music Performance Scholarship. He has also performed as a musician with groups/artists such as The Bad Apples, The Good Vibes, Mister Speaker, Daffodils, Louana Whitney, and is currently working with indietronica duo, Dual.
George is currently completing a Bachelor of Music degree at the University of Auckland, specializing in Jazz Performance, where his ambitions are to continue his career as a full time musician playing Jazz.
George is grateful and excited to be a part of the Rudd School of Rock teaching team, and looks forward to providing a comprehensive, fun, and enjoyable learning experience for all his students.
Jacob Suckling

Jacob Suckling is a passionate drummer/guitarist with his journey in music starting at aged 4 when he started to play the drums.  He has extensive live performance experience, including playing in churches since the age of 12.
Jacob is dedicated to the idea of passing on his knowledge and passion for music. 
When not teaching drums/guitar for Rudd School of Rock, Jacob is studying towards a Diploma in Christian Studies with a focus on leadership.
Jacob's students will find him to be a super-enthusiastic, patient, and friendly teacher who will make lessons a joy to attend every week!